Why is it that weeks fly by so very quickly during summer vacation. I'm up early this morning for an early trip in to our Church office to put in a few hours for my part time job as our parish webmaster. If I'm lucky, I'll be home before anyone else wakes up!

Our visiting priest from India, Fr. Jerome, shared the most wonderful quote from Charles Reader during his homily on Mt 13:24-43, reminding us to sow the good seeds of God's word in our heart to reap the benefit of fruitful service to others. Charles Reader said:

Sow a thought, and you reap an act;
Sow an act, and you reap a habit;
Sow a habit, and you reap a character;
Sow a character, and you reap a destiny.

I plan to work today on sowing thoughts that will lead to acts...and hoping that I eventually evolve to the habits! A great thought for a Monday morning.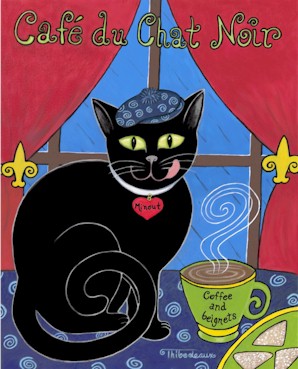 I had a great email from a really fun artist and I thought I'd share her web site with you. Dawn looks like a pretty cool chick - let her art perk up your Monday morning.

From Pope Benedict's Sunday Angelus this week come these inspiring words:

In the world in which we live, it is almost a necessity to be able to regain one's strength of body and spirit, especially for those who live in the city, where the conditions of life, often feverish, leave little room for silence, reflection and relaxed contact with nature.

Holidays are, moreover, days in which more time can be dedicated to prayer, reading and meditation on the profound meaning of life, in the peaceful context of one's family and loved ones.

Vacation time offers the unique opportunity to pause before the thought-provoking spectacles of nature, a wonderful "book" within reach of everyone, adults and children. In contact with nature, a person rediscovers his correct dimension, rediscovers himself as a creature, small but at the same time unique, with a "capacity for God" because interiorly he is open to the Infinite. Driven by his heartfelt urgent search for meaning, he perceives in the surrounding world the mark of goodness and Divine Providence and opens almost naturally to praise and prayer.

Maybe that's why I'd rather be on vacation...

See you later today!